Bulk SMS in Hindi
In this age of revolution of technology, it is very important to keep in touch with technology at any time. Bulk SMS can be used to interact with a big population. Now you can
send Bulk SMS hindi
which is one of the fastest way for sending information within groups to many members, just within no time.
This simple bulk sms solutions will help you to
send bulk sms in Hindi
to multiple users with extremely user-friendly user interface. This
Hindi bulk sms in India
provider services help you to send SMS online to increase your business fast and without any trouble. Now send
cheap bulk SMS
hindi in India with the promise of instant delivery and cheapest rates.
PoweredSMS had feature of sending Bulk SMS in Unicode SMS (SMS in regional language) which is to reach customers in their local language.
This platform makes it extremely easy for the marketer to launch his SMS promotion campaign in regional language within 5 steps: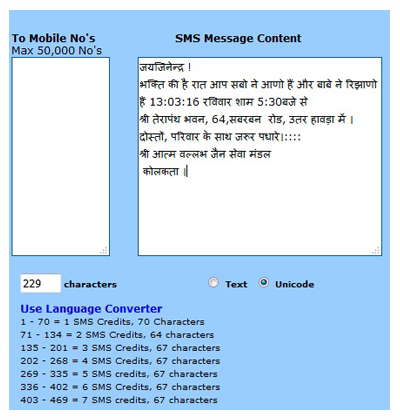 To start with PoweredSMS has introduced
9 Local Indian languages
1. Hindi 2. Marathi 3. Telugu 4. Tamil 5. Kannada 6. Punjabi 7. Malayalam 8. Gujarati 9. Bengali
With the feedback from the customers & looking into the latest market requirements, we will launch even more languages in the future and we had also launch the new features like Voice SMS to reach larger population based in India.